Where: Hall 3, Booth J52, Messe Dusseldorf, Germany
Exhibition Dates: 12th Nov – 15th Nov 2018
The
Oxford Lab Products
team are delighted to be attending and exhibiting this year at
MEDICA 2018
, taking place at the Messe Dusseldorf, Germany in November.
MEDICA 2018: The World Forum for Medicine
is the leading international trade fair for the medical sector.
Visit us in Hall 3 Booth J52 for a chat and check out the latest products we've got to offer
at Oxford Lab Products.
Our #IBecameAScientistBecause competitions and campaigns have been so popular at recent shows that we will be keeping it going at MEDICA 2018, asking attendees to write the reason they became a scientist on our backdrop, take a picture and post it on
Instagram
with the hashtag #IBecameAScientistBecause.
We will be giving away
some FREE t-shirts too!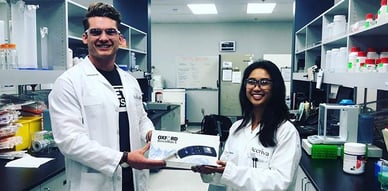 MEDICA 2018 is the world's largest event for the medical sector.
For over 40 years MEDICA has been a firmly established event on every expert's calendar.
There are many reasons why it is such a unique event. Firstly, it is the largest medical trade fair in the world, attracting
more than 5,100 exhibitors from 70 countries in 17 halls
. Furthermore, each year the leading individuals from the fields of business, research, and politics attend this world-class event, alongside tens of thousands of national and international experts and decision-makers from the medical sector. With its extensive exhibition and ambitious program, MEDICA aims to present the entire spectrum of innovations that are on the horizon for outpatient and clinical care.
We'll be there from Monday 12th through Thursday 15th of November 2018 at the Messe Dusseldorf, Germany. Stop by Hall 3 Booth J52 and let's talk! Check out the latest products we've got to offer and chat with us about some of the breakthrough things we are doing right now at Oxford Lab Products. We are really excited to show off our high capacity hotplate stirrers, our hematocrit centrifuge and tons of other great products we are bringing to the market that we know you are going to just love!
Click on these links to find out more about MEDICA 2018, or Oxford Lab Products. See you there!