Where: Booth #4417, McCormick Place Chicago, USA
Exhibit Dates: 29th Jul – 02nd Aug 2018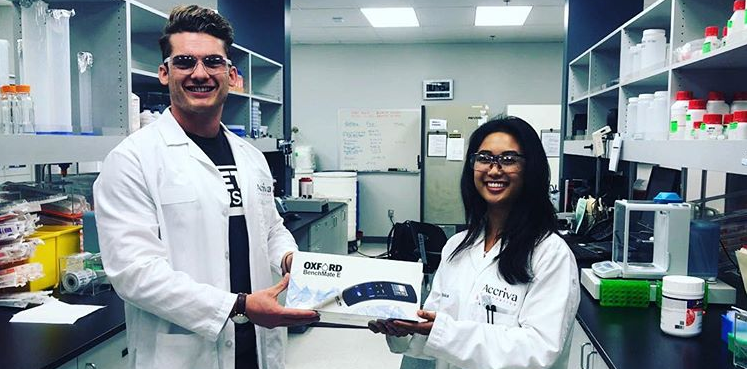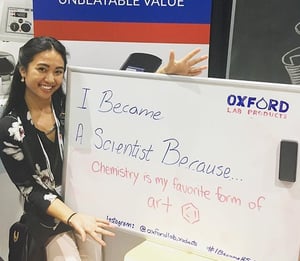 The Oxford Lab Products team are attending and exhibiting again this year at AACC 2018, taking place at the McCormick Place Chicago, USA at the end of July. AACC 2017 was so much fun that we couldn't resist returning again this year! Our #IBecameAScientistBecause competition was such a success at last year's show, that we have decided to bring it back again for AACC 2018! We are going to be giving away another FREE BenchMate E Electronic Pipette to the winner! All you have to do is write down the reason you became a scientist on our backdrop, take a picture and post it on Instagram with the hashtag #IBecameAScientistBecause and tagging us in your photo, and whoever gets the most likes wins the free electronic pipette – it's that simple! The photo to the right is last years winning photo from Monica of Accriva Diagnostics. We are really looking forward to another great giveaway again this year, and don't worry if you're not on Instagram, we are also giving away some FREE shirts too!
AACC is the AMERICAN ASSOCIATION FOR CLINICAL CHEMISTRY and is organizing their 70th Annual Scientific Meeting in AACC 2018, running from the 29th of July to the 2nd of August this year. Apart from the BenchMate E Electronic Pipette, attendees can expect to find lots of cool benchtop equipment, pipettes and consumables at the Oxford booth. For all those Clinical Chemists out there, we are really excited to show off our high capacity hotplate stirrers, our hematocrit centrifuge and tons of other great products we are bringing to the market that we know you are going to just love!
AACC is an outstanding event in the Medical and Chemistry categories that will be the center of attention for Laboratory Management, Mass Spectrometry, Clinical Chemistry, Molecular Diagnostics, Laboratory Medicine and Translational Medicine areas. The American Association for Clinical Chemistry has 20,000 attendees set to be at the 2018 meeting.
AACC 2018 will feature the latest advancements in clinical management, the best research on respiratory diseases, and symposia and workshops for the attendees. Sessions on clinical cases chaired by specialists will be held to help attendees understand various subject areas of respiratory medicine. The program aims at providing a complete understanding of the current state of published knowledge on these relevant topics.
Click on these links to find out more about AACC 2018 or Oxford Lab Products. See you there!